eHouse Smart home LAN Midi-switchgear building automation assembled and ready to connect. The new version in a metal box specially designed for RoomManager, EthernetRoomManager, MiniEthernetRoomManager, Integrated EthernetRoomManager+Relay Module MP18.
In this post we discuss DIY connection, professional midi-switch-board of eHouse LAN Smart home with "EthernetRoomManager MINI" or "EthernetRoomManager" (ERM) controllers. ERMs controllers are optimized to the installation of electrical fuse boxes and relay module MP-18 contains 18 relays with sockets and PCB carries out a set of all Low voltage connections between the controller and relays without long hours, tedious patching cables.
MIDI Switch-board is compatible to Mini Switch-board. MIDI SB contains 2 DIN rails in spite 1 (for MINI) to ensure full functionality of the ERM controller (32 output on/off – all digital outputs).

Connect all low voltage accessories to the controller has been discussed in article
"connect the mini switchboard for self-assembly".
Due to several variants of eHouse controllers based on RoomManager architecture RM, ERM, ERMMINI designed a dedicated housing mini/midi-switchboard lets you install any of the above.
Similarly, you can connect any variant of the relay module MP-18.
The box is a metal, analogous to the distribution of professional electrical and plumbing installation distributors.
External dimensions unilateral frame: 458 * 468mm
The dimensions of the box without the frame: 402 * 410 * 110mm
It includes:
metal front: Frame + door with a lock on key
set of threaded holes for the installation of all components of switchboard (NO 4 bus, the ERM controllers, LED power supply 12V / 8A) in many ways
3 ways to mount the Power Supply
2 types of relay modules
4 types of drivers RM, ERM, ERMMini, ERMMP18
6 combinations mounting controllers
4 rails make contacts for connecting external cables to midi-switchboard (230V and LED lighting / LED RGB)
2 rails make contacts for 230V wires (neutral and protective) allowing very convenient installation
shield/cover for electronics only for ERMMini
Several holes are mounting box in the wall
Assembled midi-switchboard includes
Switch Mode Power Supply LED 12V/8A power enable building automation, all the relays and LED strips connected to dimmers
external IR control panel: (Infrared Receiver/Transmitter , temperature sensor, light sensor) also finished wiring (IDC-16) panel (8m max) to derive it from the electrical box in front of the audio-video system (optional)
wiring switches IDC-14 (10m) to distribute it in series around the room. (optional)
2 *MP-18 relay modules totally with 36 relays
8 temperature sensors assembled with 10m of cables and connector for direct tie to the eHouse LAN controller (optional). You can order individually made optional temperature sensors with cable for your installation ready to attach to the controller. Once the installer is only necessary:

mounted a midi-distribution complex in a wall in a room or in a controlled area
Serial cable distribution of IDC-14 to switches, sensors (between the cans for electrical switches)
IDC-16 cable distribution for infrared panel between the controller and the panel
The distribution and connecting 230V wiring and another for the relays
Connect the power adapter to 230V
Connect 12V LED strips to dimmers
Optional distribution of additional wiring of sensors in the planned space
Distribution box with integrated pulse power supply LED 12V / 8A power building automation, relays, tapes LED / RGB LED.
The box should be installed behind light furnitures to not marred rooms. Electronics controllers should be mounted at the bottom of the box to provide best cooling.
Assembled box without external wires: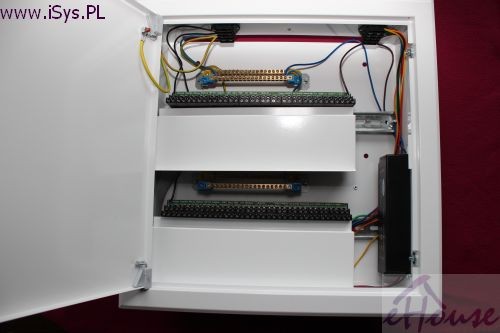 Appearance in front of the box: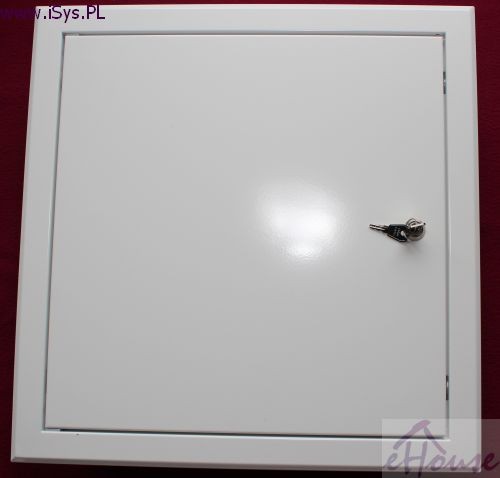 Assembled box without external wires: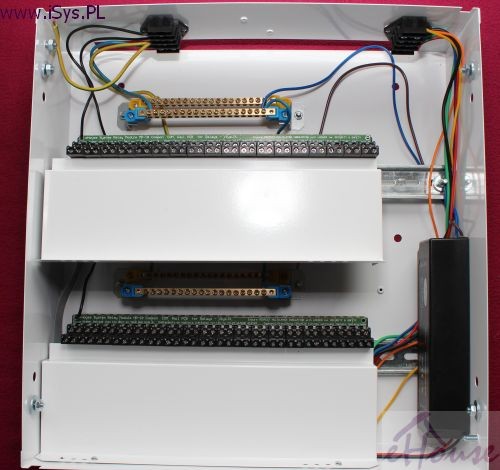 Assembled box after removing the frame from the door: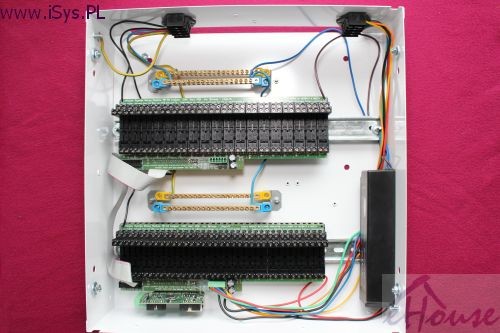 An empty MIDI box without eHouse accessories: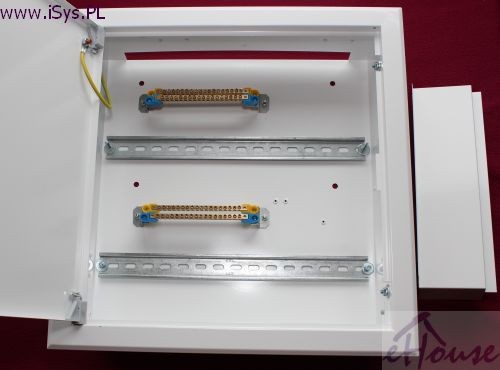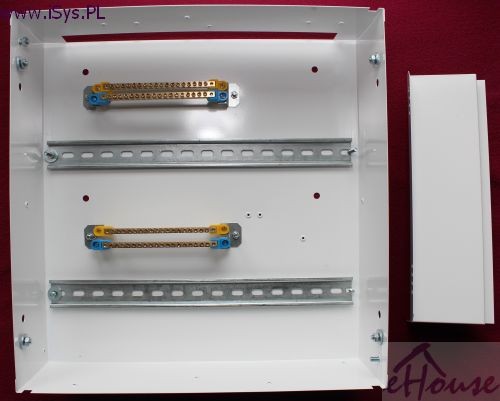 The power supply can be installed in box (2 screws – M3) in 3 ways:
The bottom side of box: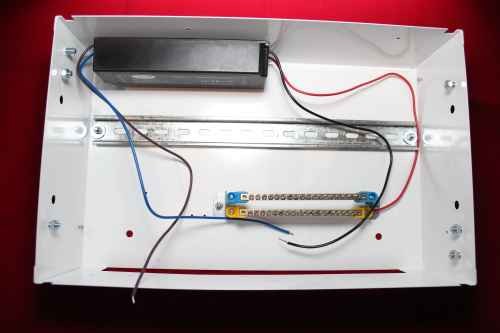 Right / Left side of box: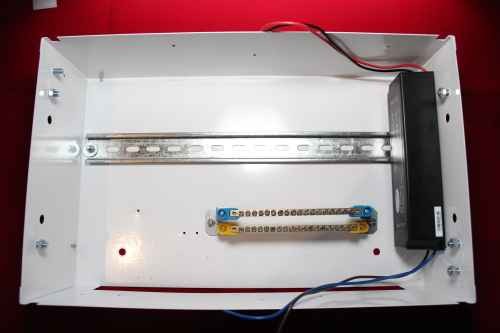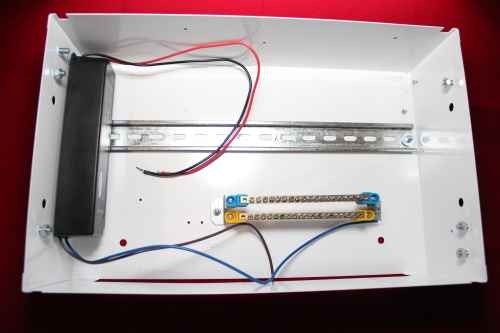 Installation 2 variants of the relay module MP-18 for ERMMini: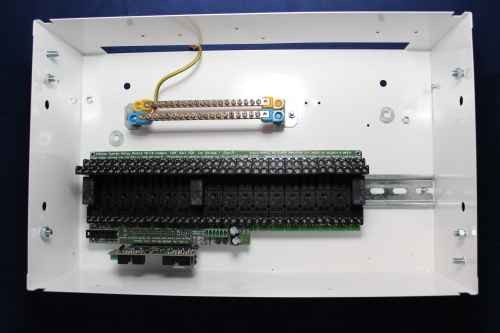 The second way does not allow mounting electronics shield/cover: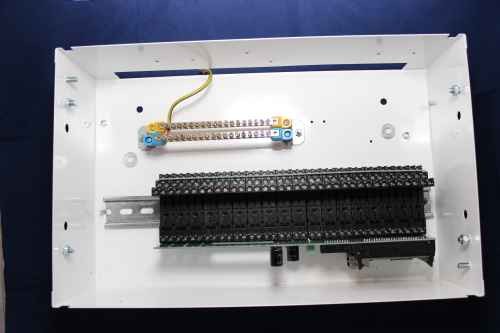 Installation 2 variants of the MP-18 for ERM standard (it is not possible to install the cover):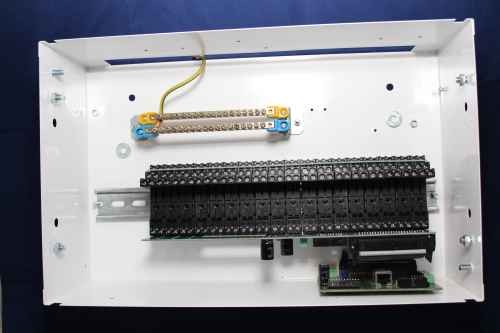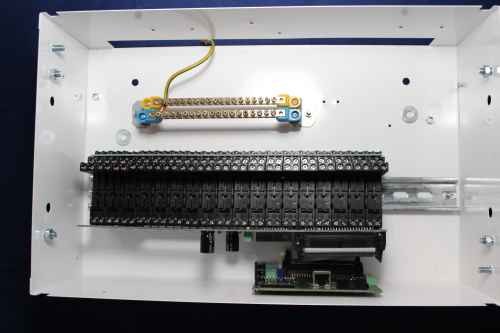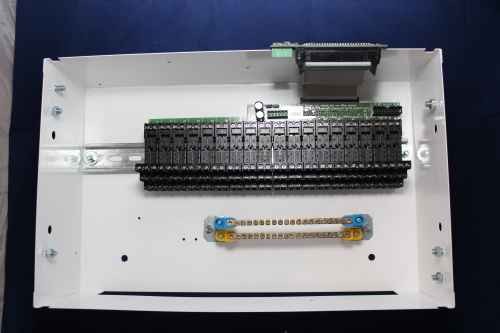 6 rails make contacts easier and faster installation. 2 of them are redundant allowing the installation of optional components and easy installation.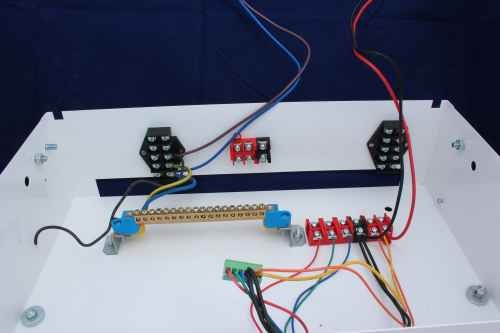 Cable connections to the ERM standard – 5pin power connector on the board of ERM.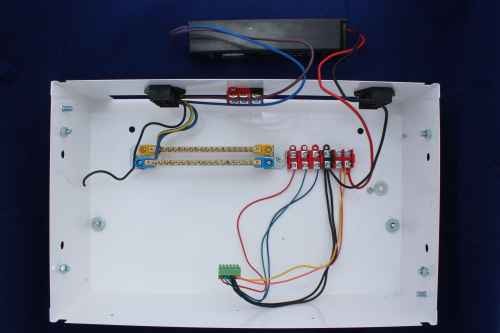 Rail terminals with 6 pairs of colors were determined:
1) Red LED 1 (red – cathode)
2) The green LED 2 (green color – cathode)
3) blue LED 3 (blue – cathode)
4) black ground (0V Low Voltage) isolated from other voltages by LED driver
5) yellow / orange + 12V power to the controller and relays
230V cables connected to eg. Rail NO 3 pin (Phase 1)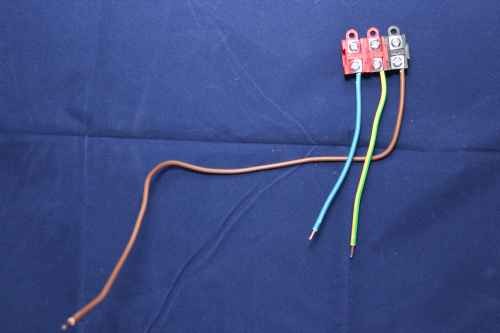 1) brown wire – phase
2) yellow-green – protection – to make contacts to yellow bus
3) Blue – neutral – rail neutral to blue bus
For 3-phase rail can be used normally open from 5 pairs of terminals.
ERM Controller contains 12V power connector (green DEGSON 6 PIN) which also include dimmers outputs.
In distribution we use Switching Power Supply 12V/8A (100W) with galvanic isolation and security protections. Under the dedicated power supply made the holes for the 3 variants of the installation.
Using an adapter within the available space is theoretically possible but very cumbersome: it requires individual mounting box, move elements box, relay module, rails make contacts, and so on.
Lead power connector MP-18 / dimmers:
1. LED 1 (RED)
2. LED 2 (GREEN)
3. LED 3 (BLUE)
4. GND – 0V
5. + 12V power controllers (optional UPS Vups)
6. + 12V power relays (Vdrv)The power supply is connected properly poles to pin 4 (0V), 6 (+ 12V). When we have sustained-power supply (UPS) + 12V we can connect it to pin 5.
You can connect to the distribution LED strips or LED / RGB. The cathode (-) terminals LED dimmers (pins 1,2,3) All anodes to + 12V power supply.
Use wires with a diameter of 2.5mm2 in a box and 4mm2 outside the box because of the high current and voltage drop on wires.
To simplify the installation derive all the cables on the rail neutral 5 pairs of contacts. No UPS power for controller.






Connecting 12V/8A to rails, performing power LED lighting controller and relays.
Low voltage cables can be put under the power supply before its tightening.
We can also use the cover with plastic stretches to make box was more aesthetic.Connecting the AC to 230V, to terminals of rails:


Connecting contacts neutral and protective rail:


Assembled mini-switch-board with ERM Standard before securing loose wires


More Pictures of ERM Midi Switchboard:






Second MP-18 module should be mounted with 2 cm distance from back side.








Second MP-18 is connected with IDC-20 with IDC-20F sockets:




































Smart Home diagram of a mini-distribution