Design of automatic control of roller shutters, awnings , Gates, Gateways in eHouse system
building management
The use of blinds, gates in residential increases safety of house taking the time to intruders in case of burglary.
In addition it allows to reduce heating expenses, reducing heat loss in winter and at night. The use of shading awnings prohibit heating your home during sunny days in summer time, which entails a reduction of expenditure on home cooling.
In the case of extreme temperatures blinds can be useful to keep the room temperature, covering windows, which have the worst thermal coefficients of isolation in the building.

On the other hand the use of blinds has its drawbacks :
blinds closed during the day operate to the detriment of flowers vegetation at home, So it is necessary to open the blinds or plant headlights
blinds closed during the day inform intruders that no one is at home
lack of daylight causes, that prevails in public "cellar atmosphere" and the house requires additional heating during transitional periods (spring , autumn) , because , in the absence or open shutters , the sun's rays wont warm the building
costs of mechanical shutters drives are significant for the whole building could reach more than several thousand euro
To take advantage of blinds , awnings and avoid their disadvantages is required
home Automation ensuring their proper and logical control taking into account:
weather conditions
time of day
time of year
temperature in different geographical directions caused by exposure to sunlight or cooling in winter
Automatically close the awning when not in use to avoid damage in the event of excessive wind, storm or rain
ExternalManager ( smart home blind control , gates )
Is a dedicated controller allows you to control shutters , awnings , gates , doors for the whole house (max 14 independent systems blinds ) . If more than one drive is required CommManager ( Control Gates , Blinds + Alarm ) .
ExternalManager as part of a eHouse 1 smart home , beyond the standard control functions of blinds, awnings, gates allows for automatic control depending on the level of analogue sensors (analogous to RoomManager ) . The thresholds of each sensor can be linked to any system events ExternalManager, eg . closing blinds at too high a heating room of the page .
ExternalManager can be controlled locally via miniature RF remote control with rolling code. Remotes have 6 combinations of buttons individually configurable for each combination and each button.
Alternatively, instead of ExternalManager you can use CommManager , which has much more functionality and greater number of inputs , measuring inputs , outputs roller blinds and additionally has a built-in GSM / SMS and ethernet .
Project control blinds , awnings , gates for the final architectural design D21 ( Murator ) .
Assumptions of the project:
Blinds on all windows operated independently controlled from the system eHouse
Control garage door
Control gate
electro-lock of gates
blocking external sockets
control of the southern window awnings and terraces
Automatic awnings shading of the three geographical directions ( independently ) under the influence of too high temperatures ( in the sun ) and closing after its reduction
Automatic closing the blinds at night and open during the day
Automatic closing all the blinds at too high frost
Automatic closing all the blinds at too high heat
Switches control the most important functions : open/close the garage door , opening wicket , opening/closing awnings , disable/enable the external power sockets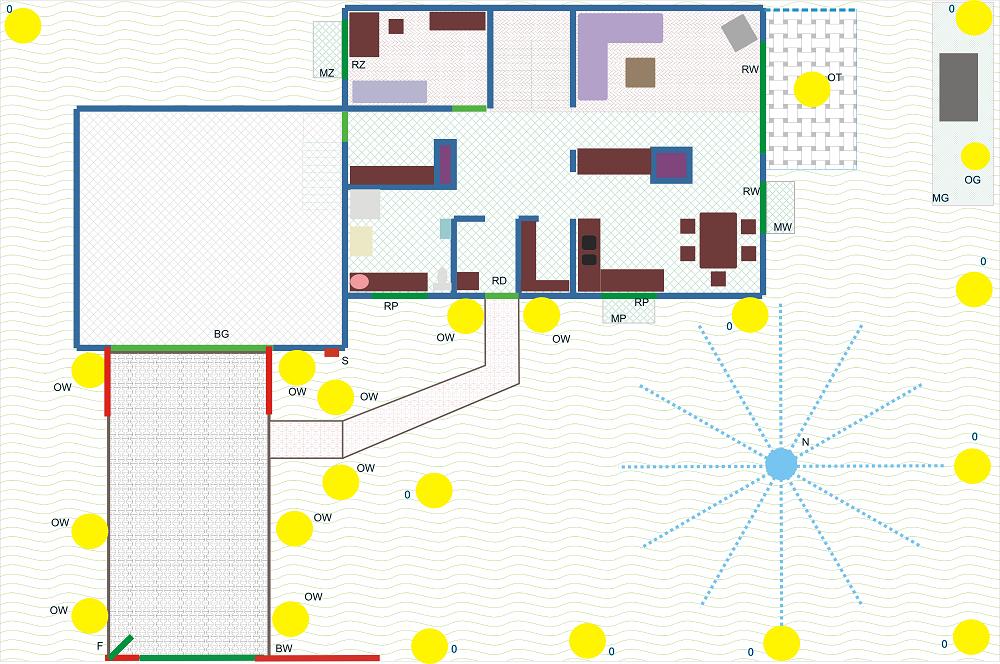 Marking the sketch design
RW – blind east
RP – noon blind
RZ – blind west
MW – Ground floor terrace awning east
MP – Noon awning floor
MZ – Awning west terrace attic
BG – gate Garage
BW – gateway
F – wicket
S – siren
OW – Illuminated entry
O – Lighting plot
OT – Lighting terrace ( with RoomManager Salon )
OG – Lighting grill
N – irrigation solenoid
ExternalManager and CommManager support Somfy roller, gateway , awnings system (with built-in controls and safeguards to protect servos with Animeo drives) . Each drive: roller , awnings , the gate is controlled by 2 lines. Activity shutters depends on the signals on both lines . Shorting one line with a common cable ( min 1 sec ) closes the blinds , awnings , gateway . Short circuit 2 lines with common cable ( min 1 sec ) opens the blinds , awnings , gateway. Shorting both lines into the joint of the drive stops at the current position .
Allocation output pairs ExternalManager or CommManager.
Blind east terrace floor
Blind east dining room floor
Noon blind kitchen floor
Blind bathroom floor
Blind study west
A blind attic room B east
blind attic room C West
blind attic room D noon
bathroom blind west
garage door
The entrance gate
Marquis east terrace
Marquis terrace west
kitchen awning noon
Single Outputs of ExternalManager
Unlocking solenoid wickets
Unlocking power outlets outside terrace floor east
Unlocking power outlets outside terrace loft west
Connect the siren ( for InputExtender )
Connecting warning lamp ( for InputExtender )
Digital Inputs of ExternalManager
Awnings east terrace open
Awnings east terrace close
Turn on the external socket
Turn on the external socket
Closing Rollers Ground Floor , gates
Closing All blinds , gates
Opening All blinds
wicket open
The gate open
The gate close
Attic terrace awnings west close
Awnings west terrace loft open
Measuring inputs of ExternalManager :
The level of illumination North ( The program automatically closing all the shutters for the night )
Outside temperature noon ( noon awnings opening program at too high temperature { eg. 25st } )
Outside temperature midnight (Program closing all the shutters at too low a temperature { eg . – 10st } )
Outside temperature east ( The opening awning floor terrace east at high temperatures { eg 25st } )
Outside temperature West ( The opening awning terrace loft west at high temperatures { eg . 25st } )
Outside temperature South 2 (Program closing all blinds south at too high temperature { eg . 35st } )
Outside temperature east 2 (Program closing all the eastern blinds at too high temperature { eg . 35st } )
Outside temperature west 2 (Program closing all Western blinds at too high temperature { eg . 35st } )
For more information : Smart Home eHouse . Home Manufacturer Building Automation