Android Graphical Visualization and Control of Smart House eHouse
Programming Android Panels – use visualization eHouse
Smart Home eHouse – Implementation of a complete Visualization and graphical control of eHouse compatible with Android operating system .
Visualization and graphic control works on virtually any hardware with Android software installed:
Smartphones
PADs
graphic panels
Smart TV
TV-Sat tuners
Audio Equipment – video

Graphical visualization eHouse for Android is an extension development environment for the system eHouse ( libraries and APIs ) to allow independent software development for users eHouse , cooperating firms and companies seeking to develop a system of individually eHouse , creating your own software for Mobile Panels , tablet , PC , PDA , etc. .
Basic functions of visualization eHouse android platform :
Graphical control system eHouse – pressing a graphical object on the screen to send the control command for eHouse system associated with a graphic object
Graphical visualization system eHouse – individually created drawing graphic objects associated with the states of outputs , input , measurement value of the analog sensors , all drivers eHouse etc. .
Images can be scaled visualization using " gestures " reduction and enlargement devices have a display type " multitouch "
Images can be moved using gestures left , right , top , down , and the diagonal
Images are done on a scalable vector graphics ( SVG ) to ensure no loss in quality when enlarged and pomniejszaniu objects
Visualization supports the file format eHouse for visualization and control to import graphical data ( generated from CorelDraw )
Direct connection to the Server TCP / IP ( PC or CommManager ) locally on WiFi or via the internet on any way ( Requires DDNS service in the absence of a fixed IP address and a lack of blocking and firewall ' ' and for TCP / IP )
Visualization is working on a thin client to limit the amount of data transferred between controllers and panels which is especially important when working internet connection, the GSM network
Visualization constantly updates the data and output status , input , measurement results and displays images associated with them and individually designed using CorelDraw
Example of use visualization system eHouse ( SCREEN SHOOT ' ' Y) based on the exemplary individual residential home project :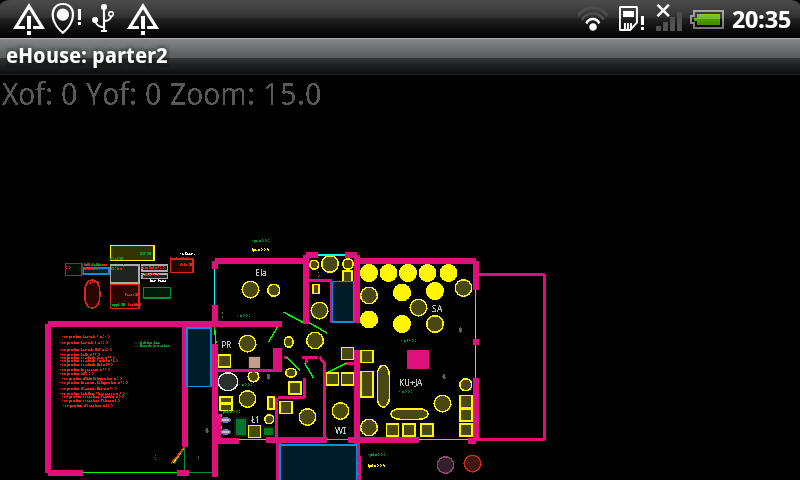 Updating drivers and change the image associated with the outputs , inputs and measuring lines , in real time ( online ) by WiFi , internet or any other type of link TCP / IP .


Lossless image scaling ( through the use of scalable vector graphics SVG ) and moving the finger gestures on the touch screen SmartPhone .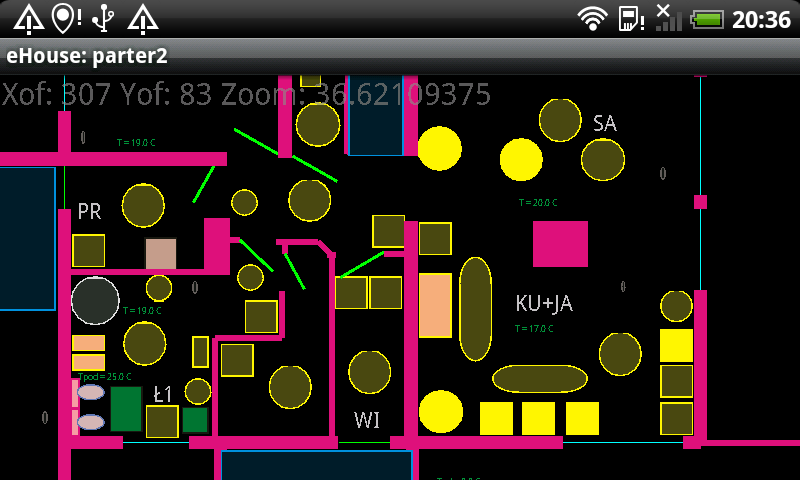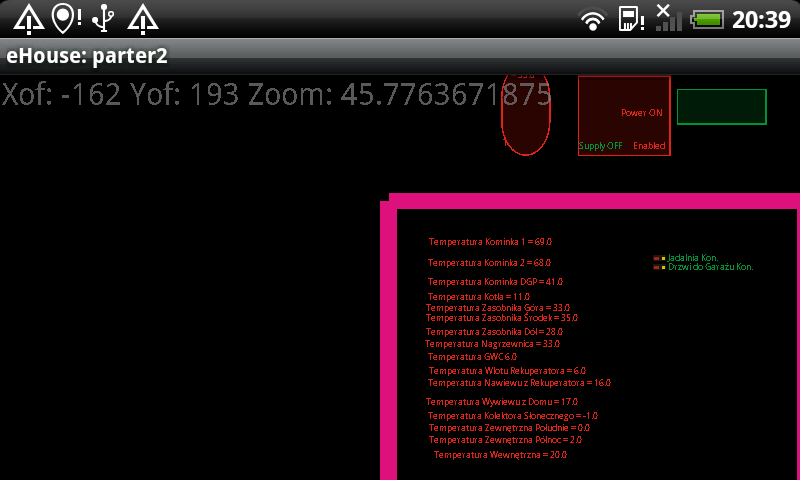 automatic – Graphical display of device status and run basic events:
change in output drivers, and the programs .
This visualization is automatically created for each controller without having to create individual design visualization . It includes all states drivers ( outputs , input , measuring inputs , dimmers , etc. . )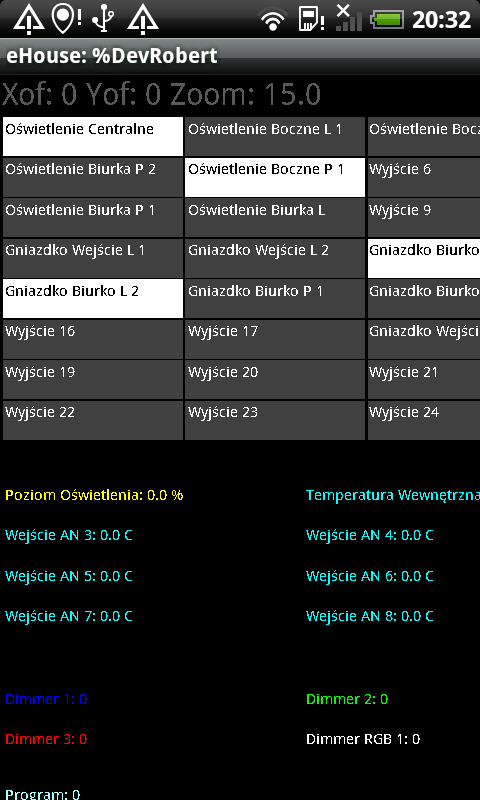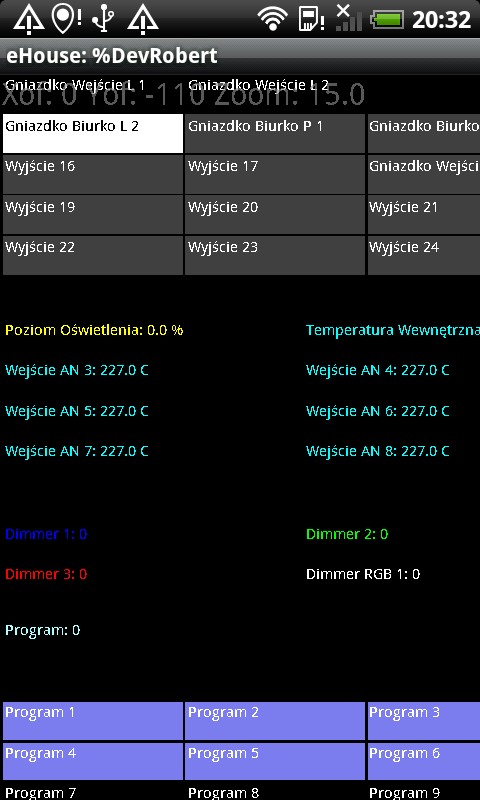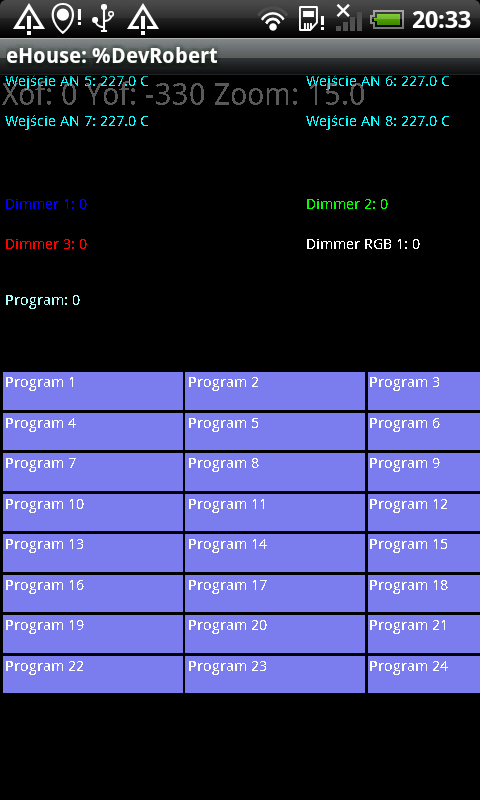 //
Source Code program
/ *EHouse For ANDROID panels , tablets , PDAs , Smartphones template API for communication to the eHouse system
* ONLY FOR REGISTERED USERS , VENDORS , COOPERATIVES Copyright iSys . En All Rights Reserved
*
* Requires classes :
* !!!!!! . class :
* Sending Events is eHouse system via:
* SMS , eMail , WIFI , INTERNET , ETHERNET , TCPIP * !!!!!! . class : * Initiate TCP Communication for updating the current status of devices
* Performing Query status from eHouse microcontrollers
* Assuring challange – Authorisation response to the system and communication
* * !!!!!! . class : * Organize classes of devices ( names , actual status values ​​etc )
* Fill up with actual values ​​and the date of eHouse1 controllers
* ( 485 ) * !!!!!! . class : * Organize classes of devices ( names , actual status values ​​etc )
* Fill up with actual values ​​and data of Ethernet controllers eHouse
* (Ethernet )
*
*
* Application Template Steering (API ) for ANDROID platform to communicate with the system eHouse and Visualization System Status
* ONLY for registered users of the system eHouse , Cooperating Firm All Rights Reserved
*
* Requires class :
*
* !!!!! . class :
* Sends system events (commands ) to the system drivers eHouse by :
* SMS , eMail , WIFI , INTERNET , ETHERNET , TCPIP
*
* !!!!! . class :
* Initiates and maintains TCP / IP communication with drivers to update the state
* Drivers eHouse – output , measuring inputs eHouse
* Provides authentication method challange – response to the connection to the system
*
* !!!!! . class :
* This class contains all the settings and current data for each driver eHouse
* For further processing ( name , values , status) updated on a regular basis by the TCP / IP
* For drivers eHouse1 ( 485 ) * !!!!! . class : * This class contains all the settings and current data for each driver eHouse
* For further processing ( name , values , status) updated on a regular basis by the TCP / IP
* For drivers eHouse2 (Ethernet )
*
* !!!!! . class : class implements a complete graphical visualization and standard eHouse graphic control in accordance with the format of the input files ehouse
* For visualization .
* Draw basic curves (rectangle , rounded rectangle , ellipse , line , text
* Runs events related to graphical objects when activated (sending the WiFi or internet link available GSM or other ) .
* Visualization is automatically updated each time you receive a status of drivers .
* The module supports gestures swiping your finger – causes the image in certain directions gesture
* With multitouch screens also supports scaling ( zoom in and out )
*
* /
package ehouse . android ;
import android . app . Activity ;
import android . os . Bundle ;
import android . widget . toast ;
import java . util . Date ;
import android . content . context ;
public class extends Activity ehouseandroid
{
Public visualization vs ;
static boolean firsttime = true ;
TerminatedUpdates boolean = false ;
Date date ;
context context ;
//////////////////////////////////////////////////
Override
public void onCreate ( Bundle savedInstanceState )
{
super.onCreate ( savedInstanceState ) ;
/* Initate and setup Android Application from config files generated from eHouse . exe appliaction
* ONLY ONCE – ONLY 1 TIME
* Initializes the settings application on the Android platform generated from the application eHouse . exe
*/ if ( firsttime == true) ehousecommunication . init () ;
vs = new visualization (this , 100 , 100 , 1 ) ; // creation of graphical object visualization eHouse
// create visualization object
if ( firsttime == true) // first time only for initialisation functions
{
/* ONLY ONCE ON APPLICATION START * Setup and Init List of Devices class containing :
* Names and Values ​​digital input , aDC inputs , outputs ,
* { StatusEhouse for eHouse 1 devices , StatusCommManager for eHouse 2}
*
* ONLY ONCE AFTER STARTING THE APPLICATION
* Iniciuje device ( Class) { Class StatusEhouse drivers for drivers eHouse1 , Class StatusCommManager for drivers eHouseTCPIP }
* Sets the name of the digital outputs , digital inputs , measuring inputs for drivers and changing the status of the drivers received by panels
*/ EhouseTCP . AllDevsStatus () ;
EhouseTCP . AllDevsTCPStatus () ;
/*
*
*
Assign eHouse Visualization is a visualization class file
* Set the visualization
*
*
*
*/
/*
Visualization of the default initialization configuration settings can be changed at
*/
// Filename visualization wyeksporowanego with CorelDraw for visualization
/* public static String */ currentview = " parter2 " ; // name of view file exported from CorelDraw application
// Effective width of the screen panels
/* Public static int */ ScreenWidth = 800 ; // declared width of screen display Affect shifting
// Effective height of the screen panels
/ * Public static int */ ScreenHeight = 300 ; // declared height of screen display Affect shifting
// Coefficient alpha for all objects
/ * Public static int */ transparency_level = 255 ; // factor alpha objects 0 – 255 (0 – 100 % ) – for outline
// factor alpha objects fill
/ * Public static int */ fill_transparency_level = 200 ; // alpha factor for internal objects 0 – 255 (0 – 100 % ) – ( fill )
Fill // figures (double drawing figure out (line) and filling the inside due to the lack of service
// ( Another stroke and fill color in android )
/* Public static boolean */ OtherFill = true ; // enable other color outline then fill
// Number of pixels by which the image is moved in the Y-axis
/* Public static int */ YShiftResize = – ScreenHeight / 2 +40 ; // Y axis shift value
/* Public static double */ NegZoom = 1 ;
// Shift in the X screen in pixels
/* Public static int */ OffsetX = 0 ; // Shift of screen
// Shift in the Y-axis of the screen in pixels
/* Public static int */ offsets = 0 ; // shift of screen
// Zoom – the scale of the X axis
/* Public static double */ ScaleX = 0 . 20 ; // Zoom in X axis
// Zoom – Y-axis scale
/* Public static double */ scaleY = 0 . 20 ; // Zoom in Y axis
/* Public static double */ ZoomScaleMul = 1 . 5 ;
//
// Minimal gesture movement zoom value in pixels – minimal movement on the screen to zoom in pixels
/* Public static int */ MIN_ZOOM = 20 ; // minimal zoom movement
// Minimum distance traffic shift in pixels to move
/* Public static int */ MIN_MOVEMENT = 100 ; // minimal gesture movement in pixels for movement init
// Maximum shift in pixel treated as pressing the screen without moving
/* Public static int */ MIN_MOVEMENT_NO = 4 ; // maximal pixels movement for press without movement
ehousecommunication . currentview = " parter2 " ; // Assign File Visualization – EHouse visualization file
EhouseTCP . ReadViewFile ( ehousecommunication . currentview ) ; // Read file and assignment of graphical objects for drivers ( outputs , input . . . . ) After the names
EhouseTCP.Query.start () ; /// Start Query Status of Devices over TCPIP
// Initiates topic receiving status data from controllers in continuous mode
}
else // FIRST TIME not Update Visualization and views Appears when mobile is rotated etc // Other cases appears when you rotate your mobile phone , etc. .
{ EhouseTCP.UpdateVisualization() ; // Updates visualization and views
EhouseTCP.UpdateViews() ;
vs.Inav () ; // refresh – refresh – redraw the screen
}
setTitle ( "eHouse: "+ehousecommunication.currentview ) ; // set title as ViewName
try
{
setContentView ( vs ) ; // shows on-screen graphical visualization eHouse
// shows eHouse Visualization on main screen
}
catch ( Exception e )
{
ehousecommunication.log+=e.getMessage() ;
}
firsttime = false ;
} //////////////////////////////////////////////////
}