eHouse LED – Home , building , Apartment powered by a voltage of 12 volts
With the continuous development of electronics, we can dispense with the traditional lighting 230V, which has a number of disadvantages in relation to the low-voltage lighting operating at constant currents.
disturbances and surges often seen with the naked eye
lower strength of lamps and ease of damage from surges
less efficiency at the same power supply
risk of electric shock raise in areas with high humidity, indoor and outdoor special as saunas , swimming pools , etc.
operating frequency of 50Hz felt like blinking, makes eyes tiring ( especially when dimming )
frequent damage of the lamps at the switching on, particularly halogens , fluorescent , energy-efficient lamps
high power consumption and surges at startup
large network interference generated by switching of fluorescent lights
the ability to switch off the safety fuses in such cases
Long start time , warm up to reach full light of most light sources
changes in light levels due to voltage instability, matting bulbs under high temperature, burning of gas in the fluorescent lamps
change color of 230V LEDs lighting and fluorescent as a result of operating variables
Most of these drawbacks can be eliminated by supply constant voltage (low) to lamps ( 12VDC power supply) .
This requires resignation from some sources such as fluorescent , fluorescent lamps , gas , etc. .
Classic lights as incandescent or halogen it is difficult to use, due to the very large currents needed to obtain the required power of light illumination. It also requires the use of much thicker wires, supplying power to reduce energy losses and voltage drop on wires .
Nowadays, the best kind of lamps suitable for this application are LEDs in various forms and enclosures .
The development of LED lighting technology, considerably larger amount of solution in relation to all other types of lamps. This ensures complete home lighting, on a plot using a very efficient and durable LEDs and LED RGB component lighting, controlled directly from eHouse home automation system known as building management or intelligent home .
LED lighting control and power LEDs with a constant voltage (12 Volt) allows you to :
achieve energy savings on lighting the building of more than 500 %
achieve maximum luminous efficiency and productivity
obtain a fixed color of the LEDs
significant extension of time LEDs
no interference and flashes comparing to Power frequency 50Hz witch tiring eyes
smart home control electronics directly from eHouse system without installing relays inclusive high-power devices
feasibility of emergency low voltage power supply, eg battery.car
a large number of lighting provides uniform lighting level and individually enable independent lighting groups/scenes depending on the current demand
implementation of safe and trouble-free lighting in wet locations , outdoor , in the saunas , pools , etc. .
facilitate installation, without the use of lighting fixtures and housings, watertight luminous self-adhesive tapes
rapid return on investment for the installation and lighting costs
LEDs can successfully implement a complete lighting most of the rooms , plot , driveways and can be used , among other things:
the main lighting ( and decentralized multipoint ) instead of the central
bedside
discrete
ornate and decorative lighting
stairway lighting , paths , routes , terraces , building , gates , wickets , input , emergency exits , halls
safe lighting for: pools , trays , saunas , conservatory
lighting images , furniture , cabinets , dressing , ornamental Sites
sconces
bedside lamp
lighting countertops , tables , jobs
television back light
lighting attics , compartments
Accent lighting
The main features of diode LED lighting
point character (small angle ) LED lighting
low power light in comparison with the classical lighting
requires a large amount of LED light points to obtain uniform illumination and the desired level of brightness over the entire surface of the room
requires a large number of independent lighting circuits
a large variety of lighting , color , adjustable brightness
To achieve high functionality and ease of use LEDs lighting ,it is necessary to take into account their characteristics, using these light sources .
it is necessary to use home automation enabling optimal lighting control with smart home controller – with a large number of control outputs or for Ethernet smart home controller
it is necessary to create a large amount of different light scenes and high -density LED lamps
Automation is required to simplify control and allow fast reconfiguration scenes, programs, without having to switch cables
the use of infrared remote control in order to avoid a large number of switches
the ability to automatically turn on light scenes such as night lighting , decorative , etc..
ensure a good power supply , voltage stability and control to enable long-life work without flickering , light color change , etc..
Ideal for controlling low voltage LED lighting drivers in rooms, eHouse intelligent home system are suitable ( RoomManager, EthernetRoomManager ), which have a large number of outputs to control lighting and other functions of the house or room ( max 24 + 3 dimmers ).
Lighting scenes can be independently configured using a PC and group programs or individual switch . drivers
These centralize and control all elements of lighting, heating and electrics in the room using one IR remote controlled device.
Application of Room Controllers to lighting (with LEDs) and heating (individual for rooms), allows refund eHouse home automation system within 1 year of installation considering electricity consumption.
Application of low voltage (12V) installation allows for independent execution of this part of the installation without the help of a qualified electrician and does not require controls and formalities relating to the registration of the building. In addition, the use of 12V lighting ensures complete safety for use in areas exposed to moisture or flooding and extreme temperatures , electrical shock, safe for children.
home Automation is based on a Room Controllers , which may be managed, eg:
Sony IR remote control (standard SIRC ) , universal remote , control panels
PDA , mobile phone , smartphone , touchphone
PC , PAD , wall panel
Web browser , FTP
standard electrical switches
automatically following the detection of motion in the room or too dark
RoomManager is an advanced microprocessor controller optimized for control rooms . eHouse home automation system (LAN and RS-485) Architecture based on RoomManagers, which is cheapest in the market due to the large amount of hardware resources in a single controller as opposed to systems built with "small blocks" incorporating "modems".
Each RoomManager can be configured from a PC according to the individual needs of the investor for the room .
RoomManagers can control , among other things :
heating ( up to 7 independent segments )
lighting ( up to 24 independent outputs (groups ) on / off )
any electrical devices ( on / off )
LED lighting , RGB LED ( 3 independent dimmers or 1 RGB)
HiFi equipment , Audio , video , TV – via IR remote control
Playing music with Winamp or other PC application
Hardware Resources of RoomManager:
24 programmable digital outputs ( open collector ) max 15V / 200mA

* possible direct drive of LEDs 12V / 100mA from output of RoomManager
* possible to directly connect the 12V relay to turn on / off electrical devices at any voltage up to 230V (AC / DC)
* possible to directly control the MOSFET to turn on / off devices operating at a voltage of 12VDC ( direct current eg. LED lighting , RGB LED , halogens)

12 programmable digital inputs

for the connection of electrical switches
contactors , reed
digital sensors
motion detectors
alarm sensors

1 analog input to measure the value of analog sensors (negative scale) (eg . lighting or other inverted scale mapping ) with programmable thresholds ( min , max)
7 analog inputs for measuring the value of analog sensors (eg . temperature) with programmable thresholds ( min , max)
built-in RS485 interface – eHouse system bus
built-in RS232 interface – TTL to install system extensions ( BlueTooth , proximity access card reader Mifare )
programmable calendar – scheduler to run the system event ( 248 items )
Receiver Infrared (IR ) to control by remote control or control panel (standard Sony – SIRC )
IR transmitter (IR ) to control audio devices , video , HiFi by emulating the pilot signal of the device
It allows you to control Winamp application , installed on a PC (control music playback )
Possibility of connecting BlueTooth module to expand the control of BT and receive signals – Control your mobile phone or PDA
The ability to connect the module Mifare card reader for identification , authorization and access rights settings for the RM ( eg . Hotel information systems or public buildings )
Built-in event queue to run
24 profiles (programs ) for simultaneous switching of all outputs in the control and setting the programmed thresholds ( min , max ) for all measuring inputs
Built-in self test , communication test , watch dog timer , protection against freezing . The device resets itself in the absence of communication .
upgrade functions with driver software and increase its functionality for the release of new firmware , without removing the driver – directly from the application eHouse .
Connecting switches , sensors , detectors to digital inputs RoomManager: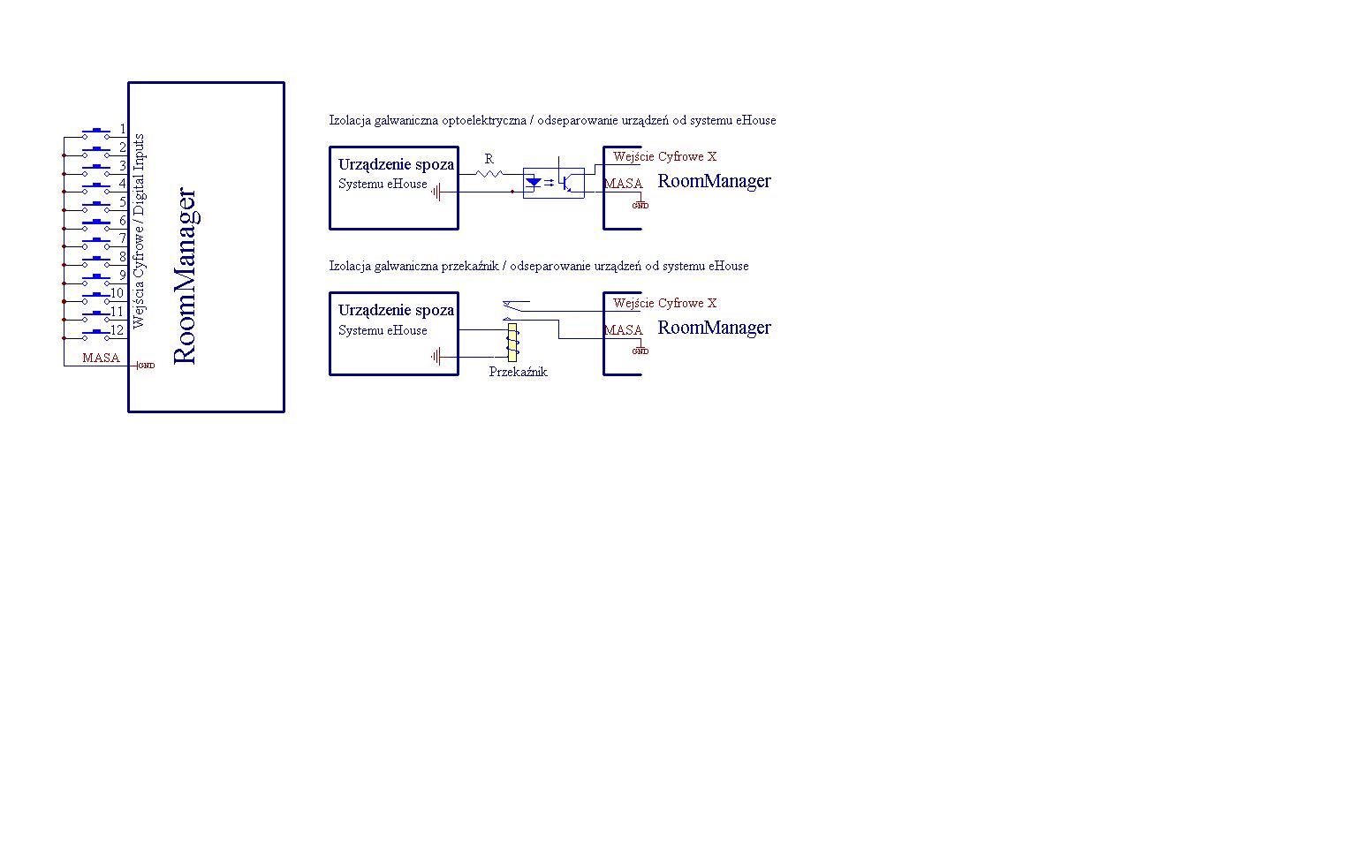 Connecting the digital outputs RoomManager and to the actuators and LED lighting :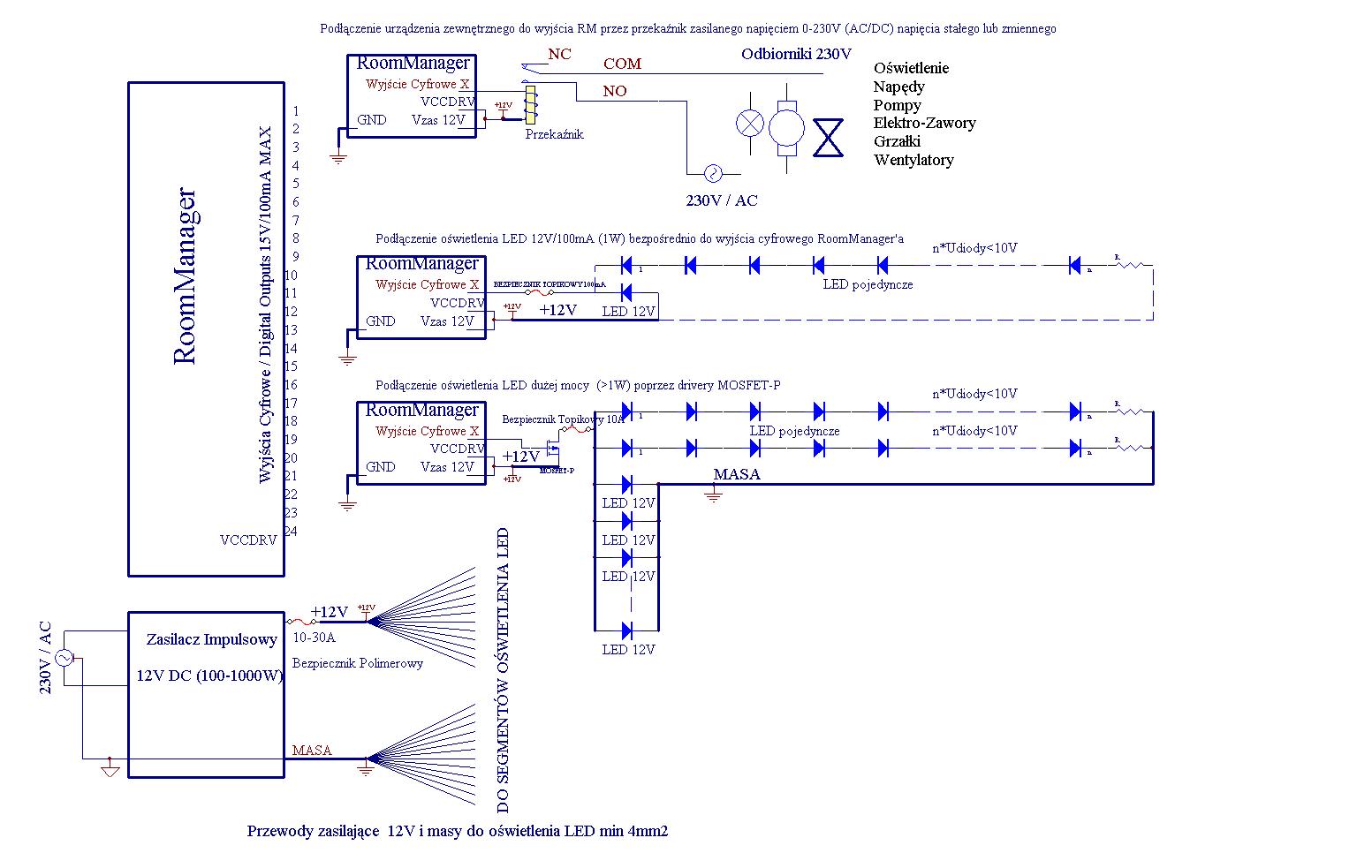 Example 24 autopsy LED lighting low power 12V / 1W (100mA ) :